What is The Ranch?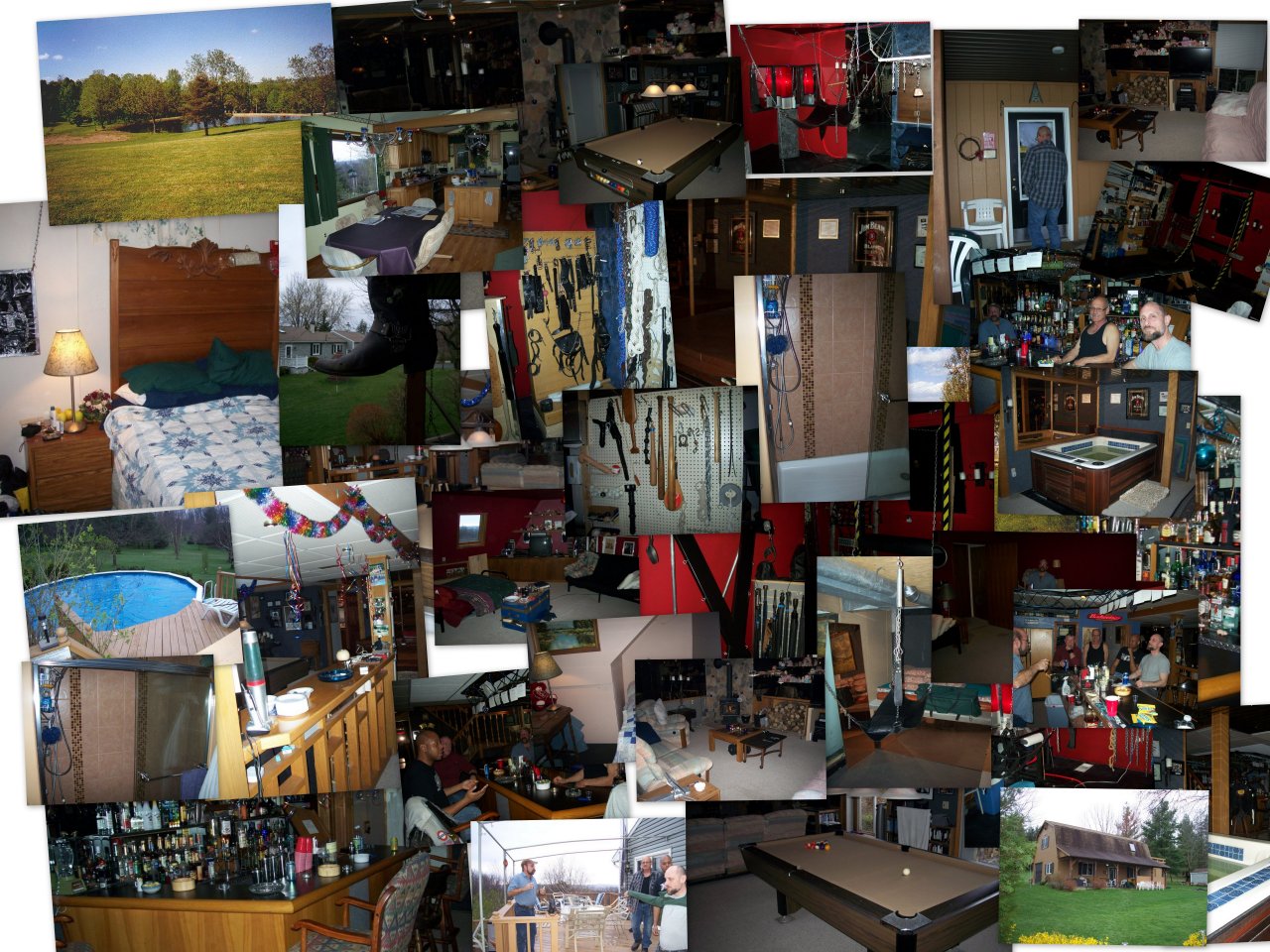 The Ranch is a private residence. It is a large home with some sleeping accommodations, including a "club room" in "heaven". It is owned by Al Rizzo and Dan Marty, associate members of the Rochester Rams, M.C. (and very good friends of mine). There are multiple outdoor decks, swimming pool, pond, hot tub, large bar, lounge, pool table, and two fully-stocked "play spaces" with slings and all sorts of devices (known as "hell" and "heaven", as one is in the basement of the main house, and the other is upstairs in the finished barn.)

You can see photos from many club and private events at The Ranch on these links:

Rochester Rams' Can/Am Weekend 2011
Canada Day/4th of July Weekend
Albert's Birthday/New Year's Eve 2010
Homecoming* Weekend 2010


Where is The Ranch?

4872 Blank Rd
Hemlock, NY 14466

If you were to drive non-stop, without traffic jams, you could get from Midtown Manhattan to The Ranch in 5.5 hours.

Events at The Ranch!

Regular events at The Ranch include:

Rochester Rams' Can/Am weekend -- Victoria Day Weekend (May)
Canada Day/Independence Day weekend (July 4th)
Leather Homecoming Weekend -- the weekend of the 3rd Saturday of November
New Year's Eve/Albert's Birthday weekend -- December 31st

Who goes to The Ranch?

There are always new people and old friends coming to different events at The Ranch, but here are a few of the "regulars":

- Members and associates of The Rochester Rams, M.C., BOLT (Buffalo), Spearhead (Toronto), The Unicorn, M.C. (Cleveland), G.H.L.A. (St Catherine's, ON) and The Ottawa Knights (Ottawa)
- GDIs and club members from all over like Duane M. (Buffalo), Marcus & Michael (Potsdam, NY), K.K. and me from NYC!!

What to expect?

Aside from the usual drunken debauchery, the property is huge and you can meet/hang-out with new friends at the bar, in the hot tub or on the deck by the pool. Feeling like a little "me time"? There's 25 acres to explore/hike, or feed the fish in the pond! Wanna ride? You're in the finger lakes baby! There are many towns and villages to ride to and explore. Maybe you want to go antique shopping with Tom & Bob? Feeling creative? You can cook/bake in the huge kitchen and show off your culinary skills -- or pop up to heaven and practice your rope tying skills! ;-) Did I mention that Albert (known to some as "Pop") has two four-wheeler ATVs and trails to ride around on the property? Of course, as with any event, you create your own experience.

What should I bring?

You should bring your clothes and toiletries and any other personal items. Towels are provided. Consider that this is a residence, and you are personal guests of Al & Dan. If you want to bring something to compensate your hosts, a bottle of liquor, case of beer or sponsoring a meal are a great way of showing your thanks for their hospitality.

Got more questions?

Contact me with any questions/concerns. If I can't help you, I'll patch you in with Dan or Albert.